My grandfather was a front-line machine gunner in WWII. He likely shot down more people in the 18 months he spent on the front lines, than I have sung for during my 20 years as a musician. Yet on his deathbed, he told my mom, grandma, and I that the most important thing in life is to be kind to one another.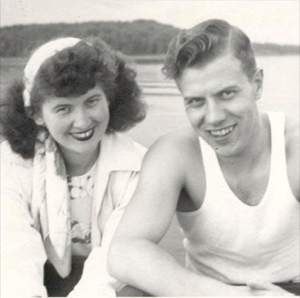 He and my grandma became acquainted while he was overseas. What started off as an innocent letter to a soldier in Germany, quickly became the kind of long-distance love affair they make movies about. As blissful as that sounds, I can imagine my grandma sealing a scented envelope with trembling hands, wondering if her beloved would still be alive by the time the letter reached his barracks. Those were the days when correspondence took faith, hope, & patience. It also gave people something to look forward to. A letter from a lover, delivered transcontinentally, and placed into the frostbitten fingers of a fatigued gunman was likely a feeling of excitement that none of us in this generation will ever know because we've been so spoiled by modern conventions. Until recently, patience has taken a backseat to convenience. Now that things are becoming less and less convenient for nearly everyone in the world, I wonder if we'll harken back to some of the primitive pastimes of yore and be all the better for it once normalcy returns... Whenever that may be. 
I'm trying to count my blessings during this uncertain time. I still don't have toilet paper, but by God, I have a computer! Just last week, we were doing a Google Hangout with some friends in France. They were on week 3 of sheltering in (and were likely pretty shack happy) but nonetheless, we all had a happy hour together, while they put on a hilarious costume show for us. We were laughing, talking dirty, and doing it all in real-time! From Minnesota to France in a split second. My grandpa likely couldn't even comprehend such a concept. He was simply blown away by the invention of the microwave and was grateful every time he'd reheat his coffee. 
My grandfather was a music lover. He told me once that he used to hum himself to sleep with "America The Beautiful" while curled up in a foxhole, thousands of miles from home during the war. I'd like to think he was picturing my grandma, thinking about the day they might meet, and imagining a life built together... As a child, I spent a lot of time at my grandparent's house. The centerpiece in their living room was a beautiful electric organ, which gramps would occasionally belly up to and serenade anyone within earshot. Not only did it appear to have an almost therapeutic effect on him, it was highly entertaining for me to witness this traditionally rather stoic Finnish orphan exuberantly booming songs from the 1930s and 40s.
Fast forward 30 years and throw in a "physical distancing" order for good measure, and music is still the thread that binds us together. I've seen my musician friends doing virtual concerts from their homes so that fans can continue to interact with them and show them support during this precarious situation. Although we're seeing a few of our liberties squelched for safety's sake, we're fortunate to have a platform with which to share our thoughts and our talents to a greater audience... For better or worse. In fact, Rampage and I will be going live for you next Friday night (April 3rd) so we can hopefully help lift one another's spirits and stay connected via the only conduit possible at present. I know we're fashionably late to the virtual party, but we'll be there with bells on so mark your calendars! In the meantime, let's do our best to stay positive, and remember my wise old grandpa's advice: Be kind to one another.